Zhejiang Guishan Township Digital Plant Factory Cultivates Tomato Seedlings with LED Lamps
For a good harvest of tomatoes, seedling breeding is the crucial factor. Zhu Zhisheng, a tomato grower who has planted tomatoes in Longgang for more than 20 years, is most afraid of encountering continuous cropping obstacles. Once this occurs, tomatoes will be difficult to grow, and in serious cases, they will lose their crops.
In order to solve the problem of continuous cropping obstacle, Zhu Zhisheng settled the nursery shed in Guishan Township, Wencheng County, Wenzhou City, Zhejiang Province three years ago. Now the digital nursery factory put into use has better solved the problem of seedling breeding.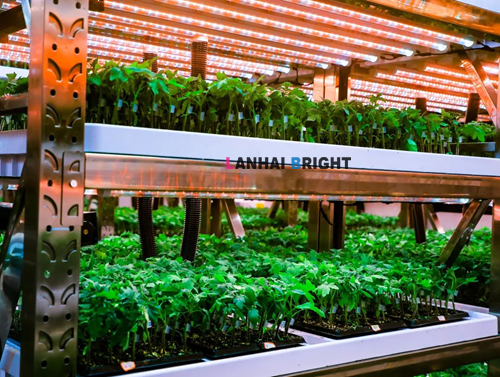 The factory adopts the most advanced technology of indoor vertical agriculture, multi-layer full artificial light digitization, intelligent and automatic seedling raising system, supporting precision irrigation system and intelligent environmental control system, which can achieve annual continuous production, shorten the seedling raising time by 1/3-1/2, and can produce about 280,000 seedlings in a single planting cycle. The annual output is 4-5 times that of traditional agriculture, greatly improving the output and output value of seedlings.
Lin Ye, the deputy head of Guishan Township, said that Guishan Mountain Vegetable Plant Factory was the first plant factory officially put into operation in the province, driving the seedling industry towards standardization, scale, intelligence and automation.Through the innovation of agricultural science and technology, it has also helped farmers to increase their income and become rich, accelerated the return of agricultural talents, promoted the revitalization of the countryside, and played a demonstration and leading role in the mountainous areas of 26 counties.
In recent years, Guishan Township has taken the agricultural "double strong" as the starting point, innovated the digital intelligence plant factory model, and explored a new path for the future agricultural development of "agricultural economy+industrial economy+digital economy" by building a future plant factory, strengthening the intelligent management and control platform, and the scientific research innovation platform. Up to now, more than 15 million vegetable seedlings have been cultivated annually, with an output value of more than 10 million yuan. (Source: issued by LANHAI BRIGHT)
Latest News
Contact Us
Name: Jonny Guo

Tel: +86-755-36632672

E-mail: [email protected]

Skype: live:.cid.2052fbc7171c206c

WeChat: greenlightingchina

Add: Building L3,Quan Shun Xiang Industrial Park,No.105 Zixing Road,Keng Zi Town,Pingshan District,Shenzhen,518122 P.R.China