Growgreen Releases LED Home Intelligent Planting Equipment aspara Nature Smart Grower
According to f
oreign media
Recently,
Growgreen, headquartered in Hong Kong, released the "aspara Nature Smart Grower", an indoor intelligent planting device.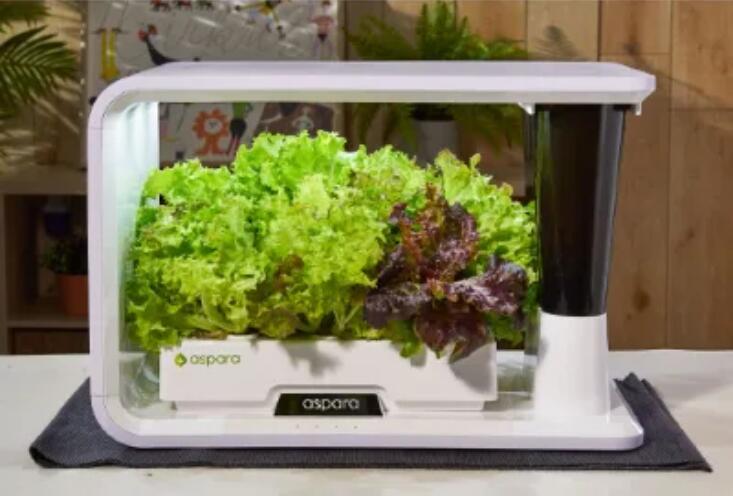 This is a controllable environmental device with automatic optimization function, which enables people to grow vegetables, herbs, fruits and other plants at home.
The equipment is equipped with a detachable water tank with automatic watering
function
and LED
grow
lights with
changeable
spectrum and light intensity, which can stimulate the growth of different plants in different growth stages
through out the year
.
The device has built-in intelligent sensors to detect plant nutrients, temperature, humidity, light intensity, water temperature and water level, thus remind users to replenish water and nutrients for plants in time.
Besides
, users can select the specific planting scheme required by each plant variety through the built-in planting program, and the planting equipment will automatically adjust the light intensity most suitable for plant growth. It is
said
that under the corresponding planting scheme, the plant growth rate can be increased by 50%.
Aspara Smart Grower is also equipped with corresponding mobile phone APP through which users can expand the intelligent planting function of the device, monitor its operation, learn planting skills, and share plant growth with friends.
Growgreen said that the aspara planting equipment product series provides the best planting environment to achieve ideal plant growth results. The built-in technology of planting equipment can help control the microclimate environment and provide specific planting program for various plants. The equipment also uses the most appropriate lighting and water flow to shorten the plant harvest time to a minimum of four weeks.
Latest News
Contact Us
Name: Jonny Guo

Tel: +86-755-36632672

E-mail: [email protected]

Skype: live:.cid.2052fbc7171c206c

WeChat: greenlightingchina

Add: Building L3,Quan Shun Xiang Industrial Park,No.105 Zixing Road,Keng Zi Town,Pingshan District,Shenzhen,518122 P.R.China