Nanjing Pukou Plant Factory Uses LED Lights to Grow Crops with High Efficiency
Shuangmiao Village, Qiaolin Street, Pukou District, Nanjing, Jiangsu Province, is
one of
important vegetable producing area
s
in the Yangtze River Delta. In
its
plant factory covering an area of 4488 square meters, only five people are required to complete the
full
cycle production work throughout the year.
In the nursery of the plant factory, tomato seedlings "live" neatly inside, and intelligent LED lights are installed on the top of each shelf. The light they emit can simulate the solar spectrum
to
meet the plant's demand for light,
thus
become
s
the "little sun" for plant growth.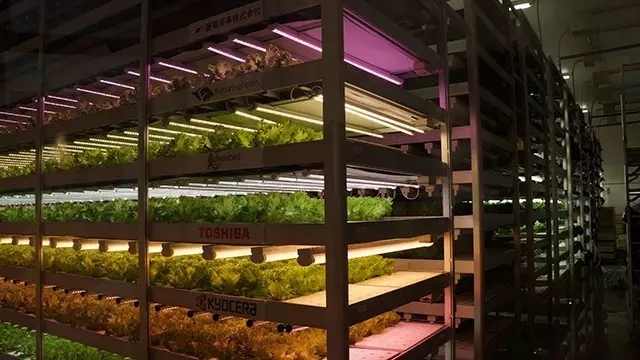 Plants cannot grow without water and fertilizer. The plant factory adopts hydroponics, and each vegetable "lives" in a small piece of degradable rock wool imbibed with nutrient solution. The
traditional
2-month growth cycle of
field planting only takes
a little
more than 20 days
here in the plant factory
.
Because
of high planting density, the yield of the same area
in plant factory
is more than 50 times higher than that of
traditional
field planting.
The
person at the factory
told the reporter that 120 tons of vegetables are
produced for
the surrounding areas every year. At present, China has become the largest country of facility agriculture in the world, covering an area of more than 42.7 million mu, including 81% of facility vegetables. While ensuring the supply of "food basket" for urban and rural residents,
it
has also become an important hand to
increase
farmer
'
s
income
and
realize
agricultur
al
revitalization. (Source: CCTV)
Latest News
Contact Us
Name: Jonny Guo

Tel: +86-755-36632672

E-mail: [email protected]

Skype: live:.cid.2052fbc7171c206c

WeChat: greenlightingchina

Add: Building L3,Quan Shun Xiang Industrial Park,No.105 Zixing Road,Keng Zi Town,Pingshan District,Shenzhen,518122 P.R.China