Osram Launched a New Led Product Series for Plant Lighting
Recently, Ames OSRAM announced the launch of a new plant lighting OSLON ® Optimal LED product series, which is based on the latest Amos OSRAM 1mm ² chip
which
integrates high efficiency, reliability and high cost performance.
At present, the new OSLON ® Optimal LED has released two products,
deep
red (660nm) and far red (730nm). It is expected that deep blue (450nm) and Horti white will be launched in the third quarter of 2022.
It is
report
ed that
OSLON ® Optimal LED series is only 3.0mm x 3.0mm
size
, which is especially suitable for plant lighting equipment used in vertical farms and high-density greenhouses. These scenes usually require intensive use of LED. For these applications, it is
crucial
to balance efficiency (photosynthetic photon flux per watt, ppf/w) with low cost (photosynthetic photon flux per dollar, ppf/$).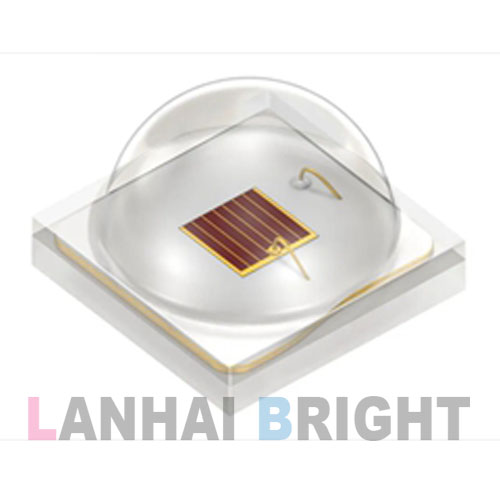 In addition to high cost performance, OSLON ® Optimal led also has excellent stability, high reliability and excellent service life.
New products based on OSLON ® Square 2mm ² LED product series
which
use the same advanced InGaAlP film chip technology, leading the high-performance LED market for plant lighting. This technology enables OSLON ® Optimal LED
to
handle high driving current and high working temperature, minimize photon flux
decay
and maintain excellent
long
working life. The product is packaged with 3030 high-power ceramics, which has strong corrosion resistance and can effectively resist the harsh
growing
environment.
In addition, OSLON ® Optimal led adopts a new and larger spherical lens, which can generate a 120 ° wide
beam angle
, provide
even
light
distribution
for crops, and prevent light from gathering under the lamp to form a "hot spot".
Renil P. Singh, director of product portfolio management at Am
e
s OSRAM, said that the new product line offered more ppf/$
and ppf/w
than OSLON ® SSL plant lighting LED, while pad
s
are compatible
with
OSLON ® SSL and OSLON ® Square LED series. This new LED has
good
performance, high reliability and long service life, which is worthy of the trust of plant lighting equipment manufacturers and growers. (source:
Lanhai Bright
)
Latest News
Contact Us
Name: Jonny Guo

Tel: +86-755-36632672

E-mail: [email protected]

Skype: live:.cid.2052fbc7171c206c

WeChat: greenlightingchina

Add: Building L3,Quan Shun Xiang Industrial Park,No.105 Zixing Road,Keng Zi Town,Pingshan District,Shenzhen,518122 P.R.China